---
Upcoming Events
June 1st & 2nd
Bodacious Perennial Extravaganza
Bodacious selection of perennials and shrubs
Huge plant sale!
Free DIY designs - bring pictures and measurements
Endless Dreams Animals petting zoo
Free face painting
Fresh produce stand
Free food and beverages
---
June 29th & 30th
Do-it-Yourself Design Weekend
Free DIY designs - bring pictures and measurements
15% OFF all plants for DIY Designs
Free delivery within 25 miles on all plant orders of $500.00 +
Perennial Seminars
Bodacious selection of perennials and shrubs
Huge plant sale!
Endless Dreams Animals petting zoo
Fresh produce stand
Free food and beverages
---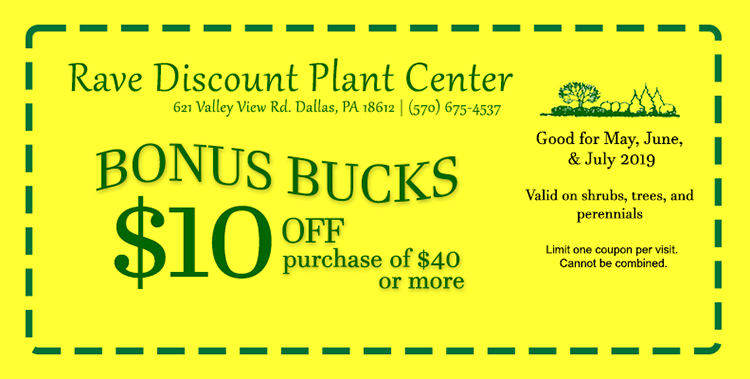 (Click coupon to print or show on your mobile device at time of sale)
---
Bodacious Spring Sale!
Spend $125 to $250, Get $10 OFF!
Spend $250 to $500, Get $25 OFF!
Spend $500 or more, Get $60 OFF!
---
Rave's DIY Design Service
Offering unique design and vision by Rob Rave, we'll create a landscape plan to maximize the form and function of your home or business, customized to your budget and needs. Check out our short video below to find out more about what we do.
---