Bodacious Plant Sale!
All Shrubs & Trees 15% OFF!
All Hanging Baskets $15.00!
Buy 7 Perennials, Get 1 FREE!
4" Annuals reduced to $1.00 each!
Rob Rave on WNEP-TV's Home & Backyard
Rob takes us on a tour of the beautiful Botanical Gardens at the Beaumont Inn
In Bloom Now
Coreopsis 'Zagreb'
Bushy perennial with small golden yellow blooms May through summer. Attractive, fern-like rich green foliage. Grows 12-15" tall. Full sun.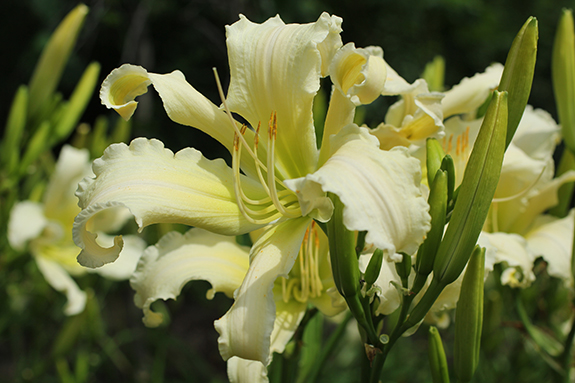 Trophytaker Daylily 'Heavenly Angel Ice'
Creamy white flowers with green to yellow throat. Grows 32-36" tall. Full sun.
Double Red Knockout Rose -
Double red blooms summer to frost; disease resistant. Grows 3-4' wide by 3-4' tall. Requires minimum 4-6 hours full sun.
Plant Specials
Emerald Green Arborvitae - 4' / $29
Knockout Roses - 3 gal / $29
Blue 'Endless Summer' Hydrangea - 5 gal / $49
No other discounts apply
Rob Rave's Bodacious Garden Tips
Now is the time when powdery mildew begins to set in on your perennials and shrubs, particularly bee balm, lilac, roses, and even annuals. Treat with a rose and flower fungicide.
From now on and through the rest of the year it is best to use a liquid based fertilizer, such at Miracle-Gro, for your perennials, annuals, and hanging baskets.
On your reblooming daylilies make sure to cut spent blooms all the way down to the stock.
Landscape Consultation -
Rave landscape professionals have been beautifying Northeast, Pa. for over 55 years, and can design and install all aspects of landscape construction for the home or business. Sign up now for a free consultation